Travel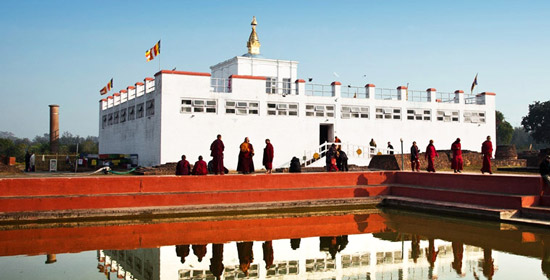 Introduction:
Lumbini, birthplace of Lord Buddha, is the centre of holy faith for the millions of Buddhists all over the world. Located in south-western Nepal in Rupandehi district. Lumbini holds several reminders of Lord Buddha. One of the most important historical sites in Nepal is endowed by nature with rich natural beauty. Lumbini is one of four magnets for pilgrimage that sprang up in places pivotal to the life of the Buddha, the others being at Kushinagar, Bodh Gaya and Sarnath. It is listed in UNESCO World Heritage Sites.
Attractions:
Lumbini Garden
The garden is foremost attraction in Lumbini tourism. The fact that Lord Buddha had taken birth in Lumbini Garden makes it a place of reverence. Number of stupas, monasteries and temples surround the garden.
Some of these are ancient while are some were erected by medieval states. A collosal stone pillar built by the great Indian emperor Ashoka is also here. Account of the birth of Buddha is inscribed on it.
Mayadevi Temple
Devoted to Maya Devi, the mother of Lord Buddha, the temple attracts praise for its architectural beauty. Credit of discovering the temple, in 1895, goes to a German archaeologist. The temple is remarkable in the way Maya Devi is shown giving birth to Lord Buddha.
Pushkarni Pool
Queen Mayadevi took a dip in the pond before giving birth of prince Siddhartha. The prince also had his purification bath in the pond. Brick steps of the pond lead to the emerald-green water.
How To Reach:
By Air
One can reach flight from Kathmandu Airport for Bhairahwa Airport which is the nearest air port for Lumbini. Sacred Garden is 15 minutes drive away.
By Road
Good roads link Bhairahwa to Lumbini, and also other important Nepal cities.
Source: Wikipedia edited by Explore Nepal