Travel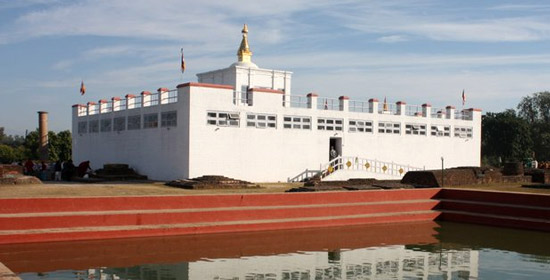 Lumbini(27° 28' 60N, 83° 16' 60E) (Sanskrit: लुम्बिनी, "the lovely") is a Buddhist pilgrimage site located in Rupandehi District, Lumbini Zone of Nepal. It is the place where Mayadevi gave birth to Siddhartha Gautama, who later became a Buddha (Gautama Buddha), and founded the religion of Buddhism. Gautama Buddha lived between approximately 563 BCE and 483 BCE. For Buddhists, this is one of the four main pilgrimage sites based around the life of Gautama Buddha, the other three being Kushinagar, Bodh Gaya, and Sarnath.
Lumbini is located 25kms east of the municipality of Kapilavastu, the place where the Buddha grew up and lived up to the age of 29. Kapilvastu is the name of place as well as the neighbouring district. Lumbini has various Buddhist temples including the Mayadevi temple and many which are presently (2007) under construction. There is also the Puskarini pond and remains of Kapilvastu palace in Lumbini. There are other sites near Lumbini where, according to Buddhist tradition, previous Buddhas were born and achieved enlightenment and died.
Lumbini in Buddha's Time
In the Buddha's time, Lumbini was a park situated between Kapilavatthu and Devadaha. It was there that the Buddha was born. A pillar now marks the spot of Asoka's visit to Lumbiní. According to an inscription on the pillar, it was placed there by the people then in charge of the park to commemorate Asoka's visit and gifts. The park was previously known as Rummindei, two miles north of Bhagavanpura.
In the Sutta Nipáta (vs. 683) it is stated that the Buddha was born in a village of the Sákyans, in the Lumbineyya Janapada. The Buddha stayed in Lumbinívana during his visit to Devadaha and there preached the Devadaha Sutta.
Re-Discovery of The Site of Lumbini
In 1896, Nepalese archaeologists (effort by Khadga Samsher Rana ) discovered a great stone pillar at the site, attributed to Emperor Ashoka. Records made by the Chinese pilgrim Fa Xian were also used in the process of identifying this religiously acclaimed site.
Current Lumbini
Lumbini, as of 1997, is an UNESCO World Heritage Site specifically nominated for the international World heritage program.
The holy site of Lumbini is bordered by a large monastic zone, in which only monasteries can be built, no shops or hotels or restaurants. It is separated into an eastern and western monastic zone, the eastern having the Theravadin monasteries, the western having Mahayana and Vajrayana monasteries.
The holy site of Lumbini has ruins of ancient monasteries, a sacred Bodhi tree, an ancient bathing pond, the Asokan pillar and the Mayadevi temple, where the precise place of birth of Buddha is located. From early morning to early evening, pilgrims from various countries perform chanting and meditation at the site.