Travel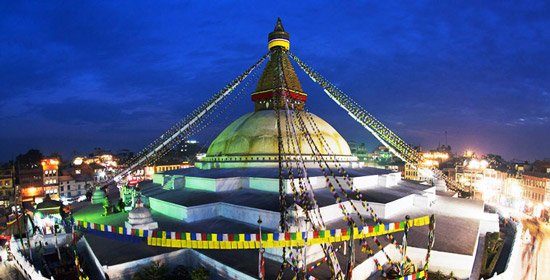 Introduction:
Boudha is one of the holiest Buddhist sites in Kathmandu. It is known as Khāsti in Nepal Bhasa, Jyarung Khasyor in Tamang language or as Bauddha by speakers of Nepali. Located about 11 km (6.8 mi) from the center and northeastern outskirts of Kathmandu, the stupa's massive mandala makes it one of the largest spherical stupas in Nepal.
The Buddhist stupa of Buddhanath dominates the skyline. The ancient Stupa is one of the largest in the world. The influx of large populations of refugees from Tibet has seen the construction of over 50 Tibetan Gompas (Monasteries) around Boudhanath. As of 1979, Boudhanath is a UNESCO World Heritage Site. Along with Swayambhu, it is one of the most popular tourist sites in the Kathmandu area.
Attractions:
In Boddha, there are many monasteries or Gompa. They are all impressively adorned and colorfully painted.
Structure:
With diameter of about 100m and 40m height, Buddhanath holds its place among the largest stupas in the world. The Buddhanath stupa covers a vast area. It has a round path at the bottom while another path is made of three-tier plinth. The stupa resembles Swayambhunath stupa to some extent. The most impressive part of the stupa is the eyes of the Buddha which are painted with red, white and blue colors. 
Festivals:
Lhosar, the Tibetan new year festival, is the most popular festival celebrated at Bodhanath Stupa. Lhosar festival begins with prayers and worship. Thousands of Tibetans dress in traditional attire and dance after expressing reverence for Buddha. Number of Tibetans come from Laddakh, Sikkim, Bhutan to take part in this festival.

Source: Wikipedia edited by Explore Nepal