Travel
Annapurna Conservation Area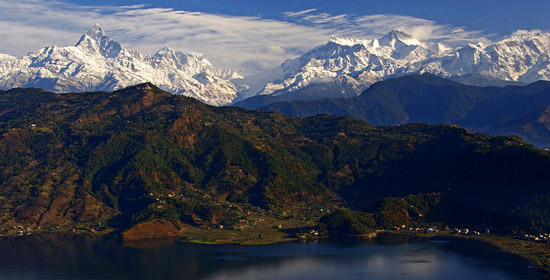 Introduction:
The Annapurna Conservation Area (ACA) contains some of the world's highest peaks the world's deepest valley-the Kali Gandaki River Valley. It is the Nepal's largest protected area of 7629 sq. km. It was established in 1992. The proposed conservation area encompasses the Annapurna range in Western Nepal. It is bounded to the north by the dry alpine deserts of Mustang and Tibet (China), to the west by the Kali Gandaki River, to the east by Marsyandi Valley and to the south by valleys and foothills north of Pokhara (Sherpa et al., 1986).
The nearest town is Pokhara, some 30 km to the south. Access is by road from Pokhara Nandanda, and from then onwards by foot. The ACA has an entire habitats gradient from sub tropical sal forest to perenial snow harboring 22 different forest types with 1226 plant species including 55 endemics, 30 mammals and 456 birds.
Brief History:
In 1986 ACAP was implemented by KMTNC in Ghandruk as a pilot project covering one VDC with area of 200 km2
In 1990, it's work area had expanded to 16 VDCs with an area of 1500 km2
Officially gazetted in 1992 covering 55 VDCs with present area
Objectives
ACAP has three primary objectives
To conserve the natural resources of the ACA for the benefit of the present and future generations
To bring sustainable social and economic development to the local people
To develop tourism in such a way that it will have a minimum negative environmental impact
Features:
Some of the world's highest peaks (Annapuran I: 8,091m, Machhapuchhere: 6,993)
World's deepest gorge: Kali Gandaki and one of the world's highest altitude lake Tilicho
Most popular trekking destination (76407 in 2000)
Two distinct climatic regions (3000mm annual rainfall in south (cis Himalayas) and less than 500mm annual rainfall in north (trans Himalayas) within a span of 120 km and altitude of 1000-8000m
22 different forest types
A total of 1226 species of plants (1140 species in the cis Himalayas) including 38 Orchid species and 9 Rhododendron species
101 species of mammals including snow leopard, Musk deer, Tibetan Argali, Tibetan wolf, Tibetan fox. 474 species of birds including 38 breeding species of birds at risk in Nepal, all six Himalayan pheasants found in Nepal. 39 species of reptiles and 22 species of amphibians.
Nepal's Largest protected area and first conservation area with the entire habitat gradient from sub tropical sal forest to perennial snow.
More than 100,000 inhabitants and more than 10 ethnic groups (Tibeto Burbese: Gurung, Thakali, Bhotia, Ethnic Tibetan and Magar and Indo Aryan: Brahmin, Kshetri, Kami, Damai and Sarki)
How to get there:
Annnapurna area conservation is located near Pokhara , a town easily accessible from Kathmandu by air and road .Bus or taxi services are available from Pokhara to Jomsom which is located in the northern part of Annapurna Conservation Area. Alternative route is to reach to Phedi by bus or taxi and walk 1.5 days to reach to Ghandruk via Dhampus -Landruk.Annapurna sanctuary and base camp is located at 6-7 days trek from Ghandruk.
Source: Department of National Parks and Wildlife Conservation