Travel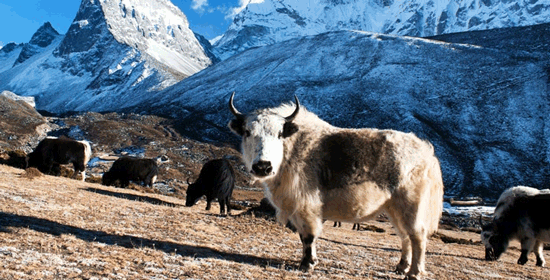 Introduction:
Sagarmatha (Mt. Everest) National Park is spread over an area of 1,148 sq, km in 1976, of the Himalayan ecological zone in the Khumbu region of Nepal. The Park includes the upper catchments areas of the Dudhkoshi and Bhotehoshi Rivers and is largely composed of rugged terrain and gorges of the high Himalayas, ranging from 2,845m at Monjo to the top of the world's highest Himal - Sagarmatha at 8,848m above the sea level. Other peaks above 6,000m are Lhotse, Cho Oyu, Thamserku. Nuptse, Amadablam and Pumori,The famed Sherpa people, whose lives are interwoven with the teachings of Buddhism, live in the region. The renowned Tengboche and other monasteries are common gathering places to celebrate religious festivals such as Dumje and Mane Rumdu. In addition to Tengboche, Thame, Khumjung and Pangboche are some other famous monasteries. For its superlative natural characteristics, UNESCO listed SNP as a World Heritage Site in 1979.
Flora and Fauna:
The vegetation found at the lower altitude of the park include pine and hemlock forests, while fir, juniper, birch and rhododendron, scrub and alpine plant communities are common at the higher altitude.
The park is home to the red panda, snow leopard, musk deer, Himalayan tahr, marten, Himalayan mouse hare (pika) and over 118 species of bird including the Impeyan pheasant, snow cock, blood pheasant, red billed cough etc.
Places Of Interest
Apart from the greatly varied flora and fauna as well as the impressive mountain scenery of the park, there are some monasteries and gompas in the Sagarmatha National Park premises that hold the travellers' attention. Here is brief infomation about such places.
Park Visitor Center
It is located at Mendalphu i.e. the park's Headquarters. While staying at Namche Bazar, don't forget to visit the natural history and cultural heritage museum.
Thame Gomba
It is one of the most important religious centers in the area. Renowned Mani Rimdu festival is celebrated here in May.
Khumjung Gomba
In June the Dumje festival is observed here as well as at the monasteries of Namche and Pangboche.
Facilities:
It is advisable to bring a comprehensive first-aid kit since there is no health post in the area. Arrangements should be made through a trekking agency. There are no accommodations within the park. Trekkers must be self-sufficient in all means.
How to get there:
The most common ways to reach the park from Kathmandu are:
Flight to Lukia and two day's walk
Bus to Jiri and 10 day's walk
Flight to Tumlingtar and 10 day's walk
Flignt to Phaplu and 5 day's walk
Buffer Zone:
Nepal Government has declared a buffer zone in and around the park in 2002 with the objective of reducing biotic pressure in the slow growing vegetation. The government has also made a provision of plowing back 30 - 50 percent the revenue earned by the park to community development activities in the buffers zone. In collaboration with local people it aims to conserve biodiversity in the region.
Popular Trekking Routes:
The trek from Namche to Kala Pathar is very popular. The Gokyo Lake and Chukung valleys also provide spectacular views. The Thame Valley is popular for Sherpa culture while Phortse is famous for wildlife viewing. There are some high passes worth crossing over. However, the trekkers must have a guide and proper equipment for the trek.
From Namche Bazar to Kala Pathar:
| | | |
| --- | --- | --- |
| From | Destination | Duration |
| Namche Bazar | Tengboche | 5 hours |
| Tengboche | Pangboche | 3 hours |
| Pangboche | Dingboche/Pheriche | 3 hours |
| Dingboche/Pheriche | Lobuche | 5 hours |
| Lobuche | Kalapatthar | 6 hours |
| Kalapatthar | Base Camp | 8 hours |
Namche Bazar to Gokyo Peak:
| | | |
| --- | --- | --- |
| From | Destination | Duration |
| Namche Bazar | Khumjung/Khunde | 2 hours |
| Khumjung/Khunde | Dole | 6 hours |
| Dole | Macherma | 4 hours |
| Macherma | Gokyo | 4 hours |
| Gokyo | Gokyo Peak | 3 hours |
| Gokyo Peak | Thaknak | 3 hours |
| Thaknak | Phortse | 6 hours |
| Phortse | Pangboche | 2 hours |
| Pangboche | Park HQ, Mendalphu | 8 hours |
Adventure Activities:
Nature Walk
The park can be best experienced on foot. Nothing can match the walker's sense of excitement at complete fusion with the world of Nature by observing the park's vegetation and wildlife.
Trekking
From Sagarmatha National Park, trekking trail to Kala Pathar Peak is the most popular, though the treks to Gokyoand Chukung Valleys are no less thrilling.
Safety Precautions:
High altitude sickness can affect if elevation is gained too rapidly and without proper acclimatization. The symptoms are - headache, difficulty in sleeping, breathlessness, loss of appetite and general fatigue. If someone develops the symptoms, stop ascending immediately; if symptoms persist, the only proven cure is to descend to lower elevations.
Medical advice could be sought from Kunde Hospital or Pheriche Health Post. Radio communication with Kathmandu is available at Park Headquarter.
Source: Department of National Parks and Wildlife Conservation