Travel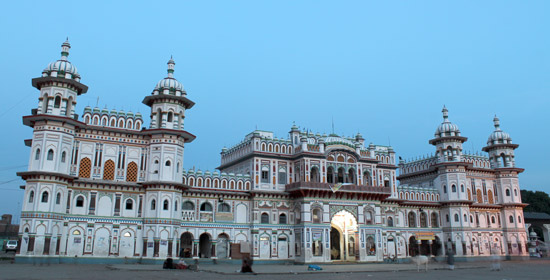 Janakpurdham, 150000 inhabitants, is a city spread in more than 7 sq. km. area, in the Dhanusa, southern Terai, Nepal, approximately 400 km south-east of Kathmandu, 22 km from the Indian border.
The city is centre of the ancient Maithili culture with its own language and script. Janakpur also is the birthplace of Sita Devi, a Hindu goddess (also called Janaki), the heroin of the Ramayana epos and it is the site of her wedding with Rama, a Hindu god. King Janak is supposed to have found baby Sita in a furrow of a field; he took the child home and raised it. When she was a young lady the king announced that she should be wed by whoever is able to string the devine bow of Shiva. That was no other than Rama, a prince from Ayodhya. Thus, Janakpur is an important pilgrimage site for Hindus. The centre of Janakpur is dominated by the impressive Janaki Mandir to the north and west of the bazaar. This temple was built in 1911 and is in many aspects reminiscent of islamic architecture.It is also called "Nau Lakha Mandir", it is a biggest temple in nepal.. Another landmark of Janakpur are the numerous sacred ponds for ritual baths (sagar) all over the city. The 2 most important ones are close to the centre: Dhanush Sagar and Ganga Sagar.
The Maithili language is still widely spoken in the area as well as in the neighbouring Indian state of Bihar. Maithili women are renown for their traditional art, most of all their paintings on pottery, walls and court yards. Typically, Maithili dwellings are made of clay and straw with an inner court yard.There are more than 200 ponds...Festivals The Bibhaha (Viveh) Panchami festival re-enacts the wedding of Rama and Sita. Over 100,000 pilgrims come for this festival. There is a procession with elephants, horses, and decorated chariots with beating drums. It is on the fifth day of the waxing moon in November or early December. Rama Navami, the birthday of Lord Rama, in March-April, is an important festival that draws over 100,000 people. Dipawali in Oct/Nov is a festive time to visit.
There is an annual one-day Parikrama (circumambulation) of the city on the full moon day of February/March. Many people offer prostrated obeisances along the entire 8km route. It is at the same time as the Holi festival.
Janakpurdham is one of the most fast developing cities of Nepal and is on the way to meet the criteria for being the 7th Sub-Metropolitan city of Nepal. The reasons for its development are good transportation facilities including road and air connectivity with other cities of Nepal as well as India. Janakpurdham is the only city with Railway and there is a huge scope for its further development. Other factors adding to its development include better health facilities, good private schools and colleges, Internet service providers and internet connectivity.
There lies immense possibilities for further development of this city into a prosperous metro. This could only be achieved through reforms in the city like widening the roads, better protection of monuments, temples, and sagars; extending rail network, better pollution management and strengthening governance in the Municipality.
Janakpur has already begun to attract people from the surrounding villages and cities for getting better medical facilities, education as well jobs in recent years. The Janakpur Cigaratte Factory Limited alone employs a large number of local people. And students come to the city for further study in R R college as well as other govt. and pvt. colleges. The education facility will be even more better with the construction of proposed Dhanusha University. For entertainment, the city boasts of five cinema halls one of which is a multiplex. The city also has good power management and generally donot have power shortages.