Travel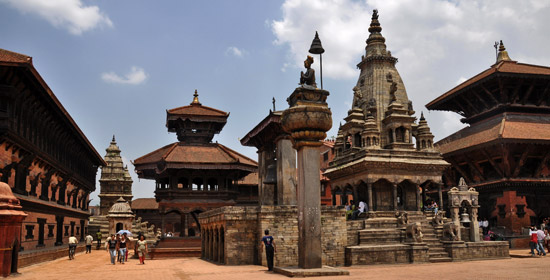 Bhaktapur (27.67°N 85.43°E. Also Bhadgaon or Khwopa) is an ancient Newari town in the east corner of the Kathmandu Valley, Nepal. It is located in Bhaktapur District and has approx. 78,000 inhabitants. The male inhabitants of this city wear a special type of cap called the Bhaad-gaaule topi. This city is famous for its yoghurt or curd ju-ju Dhau - king of curd.
Bhaktapur's main square, Durbar Square, houses the 55-window Palace which was constructed by King Bhupatindra Malla and was home to royalty until 1769. It is now a National Gallery. Close by is the Golden Gate which leads into Mulchok Court which is home to the Taleju Temple. This temple, like others in the main towns of the Kathmandu valley, is dedicated to the goddess Taleju Bhawani and includes shrines to the both Taleju Bhawani and Kumari. Entrance to the temple is restricted to Hindus and the goddess strictly cannot be photographed.
From time immemorial it lay on the trade route between Tibet/China and India. This position on the main caravan route made the town rich and prosperous: each autumn the traders from Tibet came with sheep ("changra"), fitting nicely with the main Nepali holidays, 'Dasain' (Hindi: Dussehra), when nearly everyone in Nepal sacrificed male animals to the goddess Durga. On the return trek the traders brought back to Tibet grains, sugar or Buddhist scriptures.
This prosperity fueled the cultural life: ie. the temple builders developed a Pagoda-style, spreading it through Tibet all the way to Japan. Finest of all is the five-tiered, heaven piercing Nyatapole.
Situated at an altitude of 1,401 m, Bhaktapur covers an area of four square miles. Bhaktapur or "the City of Devotees" still retains the medieval charm and visitors to this ancient town are treated with myriad wonders of cultural and artistic achievements. The past glory of the Malla rulers continue to be reflected at the Durbar Square. Pottery and weaving are its traditional industries. The city lies about 14 km east of Kathmandu.
Bhaktapur drapes across an east-west fold in the valley, its southern fringe sliding down towards the sluggish Hanumante River. Owing to a long-term westward drift, the city has two centres (residents of the two halves stage a boisterous tug- of-war during the city's annual Bisket festival} and three main squares. In the west, Durbar Square and Taumadhi Tol dominate the post-fifteenth-century city, while Tachapal Tol presides over the older east end.