Travel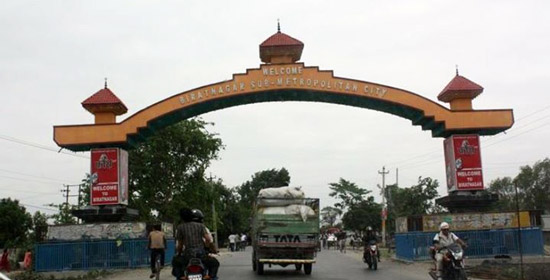 Biratnagar (बिराटनगर), a sub-metropolitan and Nepal's second largest city is located in Koshi Zone on the southern Terai belt of Nepal, near the south-eastern border with India. The population of the municipality is 166,674 (2001 census). Biratnagar is located at 26°27'46"N 87°16'48"E. It is the administrative centre of Morang district.
Biratnagar is known for agriculture, commerce and industry. It performs as an important transit point for goods leaving and entering India through the nearby border crossing, and serves as a trading centre for the farming communities in what is one of the most densely populated areas of the country. The countryside around the city is taken up mostly by rice cultivation.
Biratnagar is linked with Kathmandu by road and air. Biratnagar Airport is the regional hub for vital air services serving the remote Eastern Hills, and there are regular flights to Kathmandu.
Industry
Nepal's first large scale industry was set up in Biratnagar: the Biratnagar Jute Mills in 1936. Today, the city has some of the largest industrial undertakings in the country. While taking a bus travel to Biratnagar from any other places, one can see a large number of industries on both sides of highway. Hundreds of small and medium sized industries operates freely including chemical, edible oil, steel, liquior, soaps factories, among others, covering large portion of area that links Biratnagar with Itahari, a central transit point of eastern Nepal.
Tourism
The Koshi Tappu Wildlife Reserve (90-minute drive) is a bird-watching spot. The Koshi Barrage on the Koshi river (two-hour drive) is an impressive sight. Biratnagar is the hub of air routes in eastern Nepal.
Tourists discover Biratnagar on their way to the Himalayan states of India, Sikkim and Darjeeling. Visitors also arrive Biratnagar by air to begin their trekking to mountains such as Kanchenjunga. In recent days, tourists adventuring into Nepal's tea growing regions like Ilam and Dhankuta often spend a day or two in Biratnagar.
Places to Visit in Biratnagar
Baraha Kshetra (बराह क्षेत्र): It is an important Hindu pilgrimage site located at the confluence of Koka and Sapta Koshi rivers. According to Hindu legend, Lord Vishnu as His fourth avatar Lord Nrsimhadeva came down to earth and destroyed Hiranyakashipu, an evil demon at this very spot.
Biratnagar Haat Bazaar: a weekly open-air market (हाट बजार/hāṭ bajār) basically for selling and buying of vegetables, meat and other essentials, take place every Mondays, Wednesdays and Saturday in different parts of Biratnagar (added by Ariyana).
The Koshi Tappu: A wet wonderland in Nepal famous for bird-watching expeditions. It rests along the flood plains of Sapta Koshi river in the Terai belt of Saptari and Sunsari districts of eastern Nepal. It is believed to be one of the best wildlife-rich wetlands of Asia. Two hours drive from Biratnagar is all it takes to discover a hidden wetland in Asia.
Jogbani: Jogbani is a city serving border between Nepal and India. It is a major shopping destination for people of Biratnagar as well as nearby cities like Dharan and Dhankuta.


Dhadiram Complex: It is situated near Hathkhola, well known for recreation purpose, picnics, swimming pool and many more.

Aqua Park: Its situated in the corner of biratnagar and usually couples come on around in the place for dates. You can often see one kissing, hugging in the plae.
Budhnagar gram: It is situated southern east of Biratnagar city and known as a capital of pre historic king.


Birateswar: It is nearly endangered heritage of Nepal. King Birat ruled over this region in historic period and even there we can find the palace of king Birat.
Culture
The Culture of Biratnagar is the blend of Indian and Nepalese cultures. A lot of festivals are the same but only the manner in which they are celebrated differs among Nepalese and Indians living in Biratnagar. Some of the popular festivals are listed below.
Ashar Pandhra: A festival celebrated among Nepalese Farmers. It is celebrated around june, which is also time when the rice plantations start. Farmers celebrate this festival as a joy of start of rainy season, as most of agriculture depends on natural Rainfall. Although Biratnagar doesn't have lot of land people still celebrate it. People eat food such as Yogurt and Beaten Rice(Dahi Chyura) with Banana and mangoes on the day. Villages near to Biratnagar like Katahari,Rangeli, Amtola, Ramailo, Hoklabari, where much of farming is done, celebrate this festival actively.


Krishna Janma Asthami: Krishna Janma Asthami or the birthday of Lord Krishna is celebrated actively and together by both Nepalese and Indian communities. People tend to open small stalls everywhere where they keep a statue of lord krishna. Anyone visiting the stall gets little bit of prashad(some fruits). Also there is a culture of Jagram(staying awake all night) on Janma Asthami night. On the day there is also a tradition of Rath Yatra(Chariot pulling). Its basically like a parade, where a chariot is pulled by people and basically whole of Biratnagar turns up to witness the event. The next day is a bit gloomy as all the statues of Lord Krishna are taken to the River nearby called Singya and given away to the river. The process is called "Murti Selaune".


Dashain: Dashain is celebrated mainly by the Nepalese communities. Generally there are ceremonies in the Kali Temple on the main street. The event lasts for 15 days.


Tihar and Diwali: Tihar is celebrated by Nepalese community which lasts 5 days, among the days is a day called Laxmi Puja which coincides with Diwali. Diwali is a Hindu festival but these days it has become everyones festival. People light up their house with little lamps called diyo generally fuelled with mustard oil or Ghee(Saturated fat).


Other popular festivals include Chaat, Saraswati puja etc.