About Nepal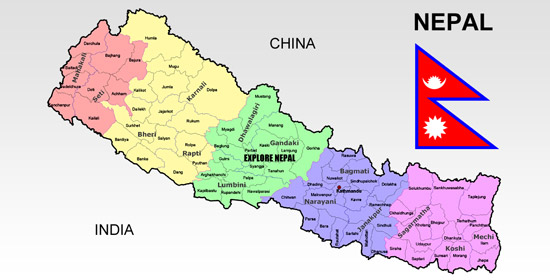 Nepal, officially the Democratic Republic of Nepal, is a landlocked sovereign state located in South Asia. With an area of 147,181 square kilometres (56,827 sq mi) and a population of approximately 27 million, Nepal is the world's 93rd largest country by land mass and the 41st most populous country. It is located in the Himalayas and bordered to the north by the People's Republic of China, and to the south, east, and west by the Republic of India. Specifically, the Indian states of Uttarakhand, Uttar Pradesh, Bihar, West Bengal, and Sikkim border Nepal, while across the Himalayas lies the Tibetan Autonomous Region. Kathmandu is the nation's capital and largest metropolis.
The mountainous north of Nepal has eight of the world's ten tallest mountains, including the highest point on Earth, Mount Everest 29,029 ft (8,848 m), called Sagarmatha in Nepali. Nepal has more than 240 peaks over 20,000 ft (6,096 m) above sea level. The southern Terai region is fertile and humid.
Hinduism is practised by about 81% of Nepalis, making it the country with the highest percentage of Hindu followers; Buddhism is linked historically with Nepal and is practiced by 9%, Islam by 4.4%, Kirat 3%, Christianity 1.4%, and animism 0.4%.
A monarchy throughout most of its history, Nepal was ruled by the Shah dynasty of kings from 1768 AD, when Prithvi Narayan Shah unified its many small kingdoms, until 2008 AD; a decade-long Civil War involving the Communist Party of Nepal (Maoist) and several weeks of mass protests by all major political parties led to the agreement of November 22, 2005. The ensuing elections for the constituent assembly on 28 May 2008 favored the abolition of the monarchy and the establishment of a federal multiparty representative democratic republic.
Nepal is divided into 14 zones and 75 districts, grouped into five development regions. Each district is headed by a permanent chief district officer responsible for maintaining law and order and coordinating the work of field agencies of the various government ministries.
Original Source: Wikipedia, Wikitravel (Edited by Explore Nepal)

National Anthem
Title: Nepal National Anthem
Artist: Pradeep Kumar Rai
Song Info: The lyrics of the National Anthem were written by the poet Pradeep Kumar Rai, alias Byakul Maila. The music is composed by Amber Gurung. The national anthem is simply worded, praising Nepali sovereignty, unity, courage, pride, scenic beauty, progress, peace, cultural and biological diversity, and respect.
Update Required
To play the media you will need to either update your browser to a recent version or update your
Flash plugin
.